Mar
31
Fri
All 12Step-Online.com meetings are listed in Eastern Daylight Time
Click here for AA meeting materials.
NA – Sanest Hour of the Day
Mar 31 @ 5:00 pm – 6:00 pm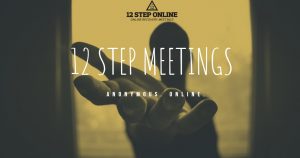 Description: The Sanest Hour of the Day meeting is for those in all stages of recovery from narcotics.
Meeting Chair: Monday, Tuesday: Davis; Wednesday, Thursday, Friday: Matt
Meeting Type: This is a closed NA meeting.
Meeting Rules: Click Here
Click HERE to join the meeting.
NA Resources:
NA Helpline and Meeting search
Free pdf files:
An Introduction To NA Meetings