Oct
16
Sat
All 12Step-Online.com meetings are in Eastern Standard Time.
Click here for AA meeting materials.
AA – Primary Purpose Group
Oct 16 @ 7:30 pm – 8:30 pm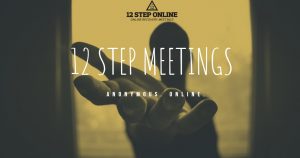 Description: The Primary Purpose meeting is for those in all stages of recovery from alcohol.
Meeting Type: This is a closed meeting.
Chairperson: Monday: Amanda, Tuesday: TBD, Wednesday: Katt, Thursday: TBD, Friday: M9, Saturday: Katt, Sunday: TBD (anyone may volunteer to chair the meeting)
Opening Literature: Click Here
Meeting Rules: Click Here
Click HERE to join the meeting.