12 Step Online is proud to provide online recovery chat meetings. The meeting calendar is posted below. Please click one of the links below to join that room.
Join AA Chat Room | Join NA Chat Room | Join Christian Chat Room
Sep
26
Tue
All 12Step-Online.com meetings are listed in Eastern Daylight Time
Click here for AA meeting materials.
AA – Late Night Jamboree
Sep 26 @ 10:00 pm – 11:00 pm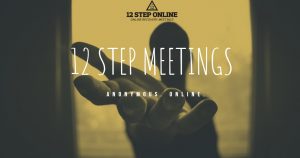 Description: The Late Night Jamboree meeting is for those in all stages of recovery from alcohol.
Meeting Type: This is a closed meeting.
Chairperson: Monday, Tuesday, Wednesday: TBD (anyone may volunteer).. Thursday: Alex.. Friday: Paul.. Saturday: TBD.. Sunday: Lisa88
Opening Literature: Click Here
Meeting Rules: Click Here
Click HERE to join the meeting.