12 Step Online is proud to provide online AA chat meetings. The meeting calendar is posted below. Please click one of the links below to join that room.
Join AA Chat Room | Join NA Chat Room | Join Al-Anon Chat Room | Join Christian Chat Room
Dec
3
Thu
AA – Night Owls Group
Dec 3 @ 12:00 am – 1:00 am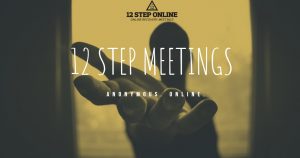 Description: The Night Owls Group meeting is for those in all stages of recovery from alcohol.
Meeting Type: This is a closed meeting.
Chairperson:  This meeting does NOT have a designated chairperson.  If one of the moderators/regular chairpersons is not available, feel free to to chair this meeting.
Opening Literature: Click Here
Meeting Rules: Click Here
Click HERE to join the meeting.